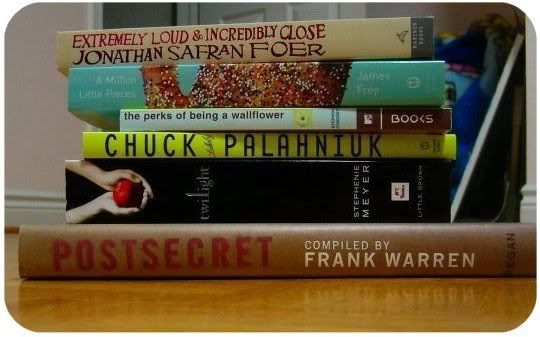 I just finished reading Lolita (Vladimir Nabokov) and Winesburg, Ohio (Sherwood Anderson), and I'm currently also reading The Kite Runner (Khaled Hosseini) in English class.
My family is leaving for another cruise from Nov 29 till Dec 10 (my birthday!) I have to stay back by myself because school is critical this year, and I can't afford to screw up. I'm actually really excited to live alone for eleven days and have complete freedom :)
For compensation of not being able to go on the trip, my parents got me a new cell phone (Motorola A840) because my old one was a piece of shit and was literally falling apart. My new phone is just a temporary phone until the end of June... WHEN I WILL GET A NEWER ONE! Yessss :)
I have a LOT of homework this weekend, but the first thing I plan to do, is CLEAN MY ROOM bright and early tomorrow morning before I do anything else!! My room is a MESS right now, it's so disgusting.
This video makes me smile :)
PS. This week's episode of the Office was hilaaaarious and definitely one of my favourites (next to Product Recall). Watch it, love it, TALK TO ME ABOUT ITTT!
PPS. GO LEAFS!!!!!
21 Comments - Click Here To View (Livejournal)