I was supposed to be doing my monochromatic watercolour landscape for Art class, but instead, I used two colours and painted something else. I'll have to get to that monochromatic landscape eventually though :( Why monochromatic? Whyyyy.
Nothing ever comes out the way I want it to. I wish I was good at Art.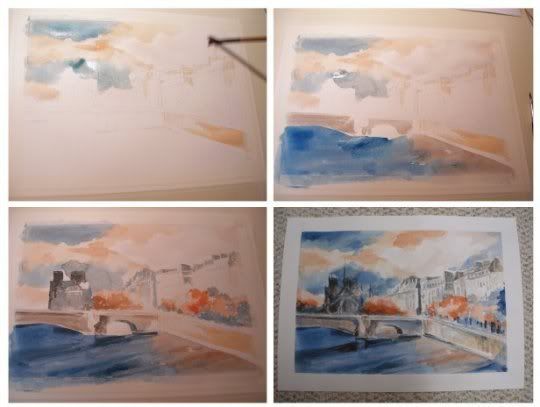 JANUARY
+ EXAMS: not failing math and science. Yes, it's a highlight.
+ Jessica Liu's 16th Birthday (going off to Pizza Pizza during our library study session, running to Loblaws and eating her birthday cake secretively in the library).
+ January 21, 2006 - a horrible day.
+ CHINESE NEW YEAR: lots of red pocket money, family gatherings, huge dinners
FEBRUARY
+ TRUCKSTOPS AND STATELINES TOUR: Panic! at the Disco with The Academy is, Hellogoodybe, Acceptance
+ KIWANIS MUSIC FESTIVAL: placing in every competition, scholarships, invitation to the provincials
+ NON-SEMI GIRLS NIGHT OUT: mini-putting in the dark, dinner at East Side Marios (and pretending it was one of our birthdays to get a free slice of cake.... lame, I know!), Fun With Dick and Jane (horrible movie)
+ Paul's 17th birthday bash: crazy sushi, house partyyy
MARCH
+ MARCH BREAK: sleeping in, relaxing, hanging out with people I don't see often
+ P-MALL OUTING: sticker pictures, korean bbq, 6 hours of transit in total
+ POTLUCK DINNER: sweet night with the girls, lots of food, girl talks, Flight Plan
APRIL
+ HALF-DAY LUNCH AT MANDARIN: "it smells like burning sugar", stuffing ourselves with food, leaving stupid messages on voice mail inboxes
+ NEW YORK CITY TRIP: long bus rides, sight-seeing, art museums, Rent, mad shopping, water balloons at midnight (and breaking windshield wipers), n64 in the hotel room, sneaking out at night
+ PEEL MUSIC FESTIVAL: 2 firsts, 2 seconds, 1 third + scholarships
MAY
+ Maria's Sweet 16 (BR celebration, cutting cake inside, having left overs and sharing with the table next to us)
+ 30 HOUR FAMINE: self explanatory
+ PEEL MUSIC FESTIVAL "STARS OF THE FESTIVAL" AWARDS CEREMONY: collecting scholarship :)
+ BLACK CLOUDS AND UNDERDOGS TOUR: fall out boy, the all-american rejects, from first to last
+ MUSIC MADNESS: my school's spring concert
+ VICTORIA DAY: sweet night at lakeshore port credit, bbq burgers, hotdogs and chicken skewers in the rain, hiding in the big tent (and playing twister), hot chocolate from Timmie's, deep talks, walks along the lake, sitting on the big rocks, feeding the geese, fireworks and sparklers, lots of left over food
+ CARASSAUGA: volunteering long shifts 3 days in a row (bad food, bad organizers, bad everything)
JUNE
+ PACIFIC MALL OUTING: with the girls, more korean bbq, tons and tons of sticker pics
+ Caroline's sweet 16 (water balloons, monster-in-law)
+ Nikki's sweet 16 (mandarin lunch, bowling, sleepover: brownies baked with vodka, "tent-ing", webcamming)
+ Connie's sweet 16 (Bubble Republic)
+ PAUL'S SUMMER PARTY: tons and tons and tons of alcohol = craaaazy drunks
+ THE END OF MY SOPHOMORE YEAR!
JULY
+ CANADA DAY: family jam, fireworks at Niagara in the rain
+ MARINELAND: day out with family
+ Monica's sweet 16 (superman returns, go-karting, umi sushi)
+ CANADIAN IDOL SHOW LIVE: meeting my one and only lover, Rob James in person :D
+ VOLUNTEERING: rock'n'roll 5k at the docks
+ WONDERLAND, WONDERLAND, WONDERLAND - maaaad wonderlanding through the whole summer :)
AUGUST
+ Amanda's sweet 16 (trampolining, bbq dinner, karaoke, sleeeepover [with no sleep!])
+ BUNGEE JUMPING at Wonderland (& more Wonderland throughout the month!)
+ Valerie Chen's Piano Recital
+ PACIFIC MALL OUTING with Jacky &
!
+ WARPED TOUR 2006
+ Wakestock 2006: bands, free stuff, autographs
+ VOLUNTEERING: A mid-summer night's run (water station in the dark, glowsticks, flashlights)
+ PIANO EXAM: stressing and mad practicing in preparation, ...then the celebration afterwards!
+ Random sleepover at 's. Swiss chalet, The Da Vinci Code, Click, Just My Luck, ghetto board games: connect four, guess who
+ GRADE 11 REGISTRATION DAY: getting schedules, picture taken, go-karting, that "incident" at playdium, starbucks, pho

SEPTEMBER
+ Canadian National Exhibition: ate a raw sausage...
+ PAUL'S "GOODBYE SUMMER" PARTY: never been so wasted
+ GRADE 11 SCHOOL YEAR BEGINS
+ Got a new laptop randomly from my parents
+ Night out with the girls: mini-putting in the dark, demetres, High School Musical

OCTOBER
+ University Fair at the Metro Toronto Convention Centre
+ THANKSGIVING & Mid-Autumn Festival
+ Phoenix Ball 2006
+ Halloween Party with the Asians :D
+ DEATH CAB FOR CUTIE SHOW W/ TED LEO & THE PHARMACISTS
+ Halloween

NOVEMBER
+ Commencement: got to see all my grad friends again, Bubble Republic, Jack Astor's
+ Nothing Rhymes With Circus Tour: Panic! At The Disco, with Plain White T's and Jack's Mannequin
+ Triple Birthday Jam downtown Toronto - sweetest party ever!
+ Stephanie's 16th birthday (mah jong, park, lots of food, the Lakehouse)
+ CARIBBEAN CRUISE 2006

DECEMBER
+ My SWEET 16: party and gathering
+ Spirit Week at school: candy grams, PJ day
+ Exchanging of presents with M, L and N, Material Girls (worst. movie. ever.)
+ CHRISTMAS CELEBRATIONS: mom's side, dad's side
+ Boxing Day Shopping
+ Pacific Mall Outing: seeing a friend I haven't seen in 5 years

Are you guys planning on making New Years Resolutions this year? If so, have you thought of them yet? Did you follow through with the ones you made last year? I'd say I followed through with half of my resolutions this year (definitely an improvement from last year). I'm still thinking about my New Years Resolutions for 2007, but when I've got them down, I'll post and share. What do you guys have planned for New Years Eve tomorrow? I'm going to a small party and sleepover at my friend's house. It will be simple, but fun nonetheless :)



27 Comments - Click Here To View (Livejournal)